Last update
Summary
Shark Rocket HV300 is highly rated for its maneuvering and stair cleaning ability. At under 8 lbs, this ultra-lightweight is a proper choice for users who need a powerful and easy-to-use vacuum to clean up floors and furniture. The unit has a short cord of 27 ft., on the other hand so if you need a similar model with longer cord (and more accessories), Shark Rocket HV302 can be a good option to choose.
Now, let's have a look at the features of Shark Rocket HV300
Suitable for seniors – this model weight is ultra-light, just 7.6 lbs. Besides, you can convert it into a handheld vacuum in just a few seconds.
Powerful cleaning – Shark Rocket HV300 uses 4.2 amps rating motor to give a plenty of suction, it is a corded model so you can clean continuously.
Versatile Carpet and Bare Floor Cleaning
Deep-Cleans and Removes Pet Hair
Converts to a Handheld Vacuum to Clean Above Floors
Fingertip controls 
Swivel Steering for excellent control in tight spaces
ultra-convenient storage with wall mounting feature
Easy-empty dust cup
Many tools & accessories
5-year limited warranty
Shark Rocket HV300 downside
One of the biggest downsides of Shark Rocket HV300 is heavy-top when used as a handheld vacuum, and this can cause fatigue if you use it for a long time. Besides, Shark Rocket HV300 does not have HEPA filters, it is not the optimal option for asthma sufferers.
Shark Rocket HV300 specifications
Similar Model: HV300, CS100, HV300C, HV300W, HV300WC, HV301, HV301C, HV301Q, HV302, HV302Q, HV303, HV305, HV306Q, HV308Q, HV310, UV450, UV450CCO
Product weight (lbs.): 7.6
Dust cup capacity (qts.): 0.42
Cleaning path width (in.): 8.5
Wattage: 500
Amps: 4.2
Filter type: Washable Foam & Felt Filters
Cord length (ft.): 25
Product dimensions (in.): 10.5 L X 9.8 W X 46 H
Shark Rocket HV300 replacements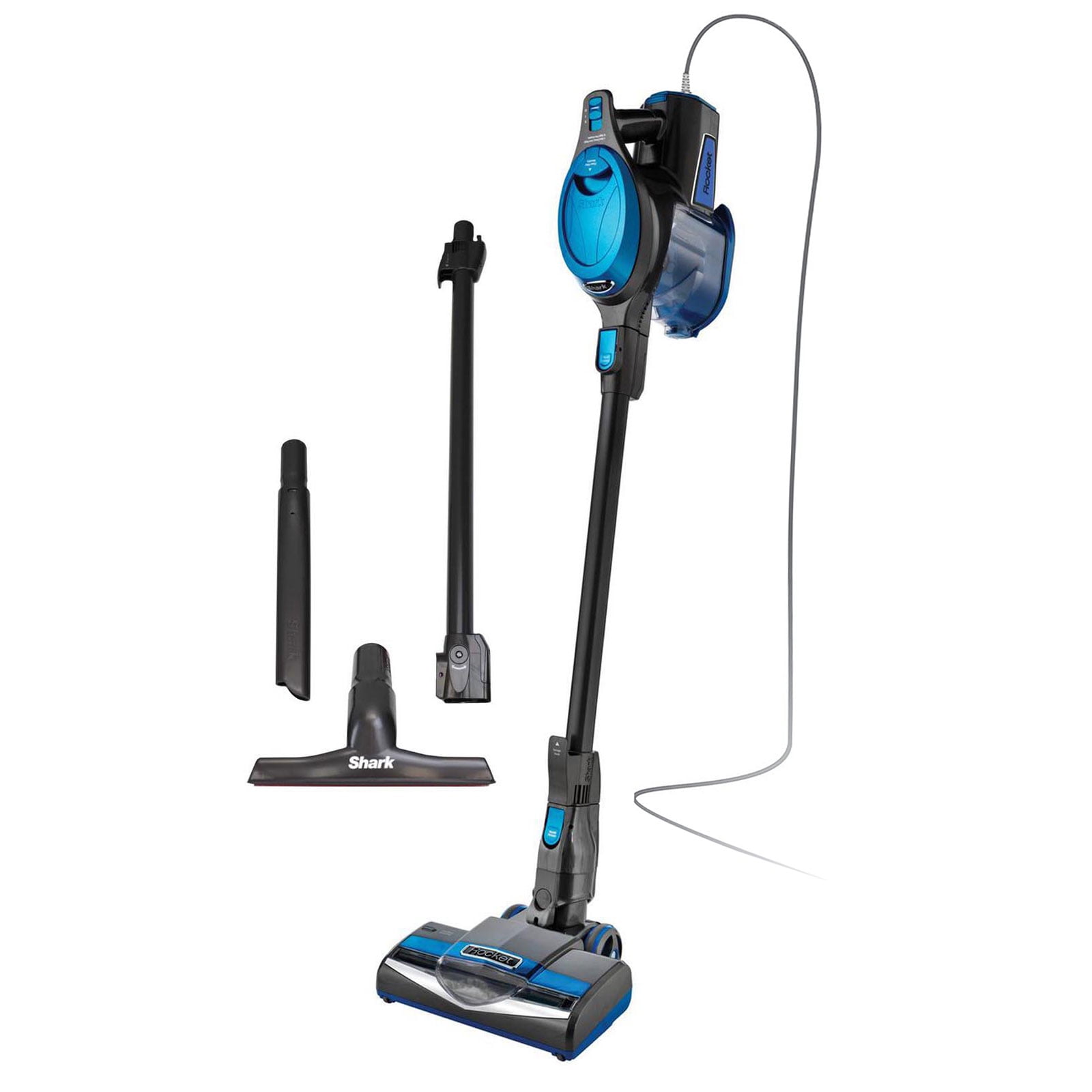 Hard Floor Hero™
5″ Crevice Tool
Dust-Away™ Microfiber Pad
Dust-Away™ Pads
Dusting Brush
Extension Wand
Compare Shark Rocket HV300 with Shark HV301, Shark HV302
Actually,  Shark Rocket HV300 with Shark HV301, Shark HV302 are similar models with minor differences in color and accessories. Here is the details:
Color:
Shark Rocket HV300 has blue color
Shark HV301 has orange color
Shark HV302 has orange color
Cord Length:
Shark HV300 cord length: 27 ft
Shark HV301 and Shark HV302 cord length: 30 ft
Accessories:
Shark Rocket HV300 accessories: Dusting Brush, Pet Hair Tool, 12″ Crevice Tool, Wall Mount.
Shark Rocket HV301  accessories:  Dusting Brush, Pet Hair Tool, 12″ Crevice Tool, Dust-Away + 1 pad, Accessory Bag, Wall Mount.
Shark Rocket HV301  accessories: Dusting Brush, Pet Hair Tool, 12″ Crevice Tool, Dust-Away + 1 pad, Accessory Bag, Detail Kit and zipper pouch, Wall Mount.
Rating
Shark Rocket HV300 scores 90 points over 100 points by hundred users. The model is very appreciated for its stair cleaning performance and ease of use. Specifically,
Stair cleaning: 100/ 100
Easy to clean: 100/100
Maneuverability: 94/100
Light weight: 94/100
Suction power: 94/100
Price: 90/100
FAQs of Shark Rocket HV300
Does This include the wall mount?
Answer:The unit I received did not include the wall mount.
Question:Is the brush driven by a motor or just by suction?
Answer:The brush drives by a motor. I use it for my cleaning business a couple of houses a day. Strong and just amazing!!!
Question:what Shark vacuum has an on/off switch for the motorized brush roller or an attachment to clean a long shag rug
Answer:This one has a two stage switch, level one does not engage roller, second stage does! No attachment for shag.
Question:Is the device suitable for working in Europe / Israel?
Answer:No idea if it has a 110 volt American plug on it !
Question:Is the cord of Shark Rocket HV300 retractable? Are there enough attachments to do everything or will I need to purchase more?
Answer:The cord is not retractable, but there are hooks to wind it around. I feel I have enough attachments to do standard cleaning, but I suppose if you're doing something specialty you may need an attachment that wasn't included
Question:Is this Shark Rocket HV300 the same vacuum as the orange HV302 and grey Rocket vacuum?
Answer: the same but different accessories
Question:Where can I find the replacement for the exhaust on the blue shark rocket hv300?
Answer:You can find them at Walmart I don't think they sell that vacuum anymore but in the vacuum section they have a bunch of replacement filters if they are not in the store you probably can order them off Amazon
Question:Even though it is bagless, would you need replacement filters?
Answer:No. But there is a foam filter on the top. If you don't clean it regularly, it will not suck well.
Question:Does this model stand upright on it's own?
Answer:Yes, but with difficulty. You have to prop it up in the corner of a room. Also, the main distraction is cleaning & removing and cleaning out fuzz balls and accumulated debris. The cord does not detach from the unit, so you must clean the unit with cord attached.
Question:Does this unit have a backlight?
Answer:No, but it is a great little vacuum.
Troubleshooting of Shark Rocket HV300
What should I do if my Shark Rocket HV300 is hard to push or pull?
You have to adjust the power setting properly. For instance, if you have to clean area rugs or bare floors, choose setting 1 and tilt the handle back a bit while cleaning. If you clean carpets, choose the setting 2.
This will help your Shark Rocket HV300 move gently and easily.
shark rocket hv300 accessories,
shark rocket hv300 parts,
shark vacuum,
shark hv302,
shark rocket hv300 filters,
shark rocket hv300 reviews,
shark hv300 parts,
shark rocket hv300 orange,
Hi everyone, are you looking for something efficient and cool? Let's check, review, compare anything that helps our lives better.