Last update:
Summary
Shark Navigator Lift-Away Professional NV356E is one of the top-rated upright vacuum cleaners over many years and this model is highly appreciated for a lot of reasons: an ergonomic design with XL dust cup, lightweight, easy to use and low price. It can be a great companion for any one who needs a vacuum that works without fancy features.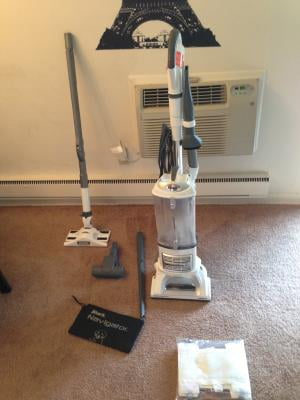 You may not realize that Shark NV356E is the upright vacuum having massive reviews on many marketplaces. On Amazon for instance, it has over 14 thousand reviews! It could be a record for an upright vacuum!
Several benefits Shark Navigator Lift-Away Professional NV356E such as: 
A great vacuum for eldery: it is a very lightweight, multi-functions and a super big dust cup (2.2 dry quarts).
Can be used on many surfaces because the brush roll can be turned on/off manually.
Very safe for allergic person: it uses HEPA filter and a completely sealed system to trap the dust
You can remove the canister because it has Lift-away features.
Let's see how Shark Navigator Lift-Away Professional NV356E performs in this video:
There are a few shortcomings of Shark NV356E (but I do not think it is a big deal for most users):
The model is a little bit top-heavy
The hose and cord length is a bit short
And the foam filter can be dirty very quickly
Should you buy Shark NV356E in 2020/2021?
If you do not mind these issues, Shark NV356E is highly recommended if you need an all-in-one vacuum machine with high reliability and amazing performance for various surfaces: tiles, carpets, rugs, etc.
Pros and cons of Shark NV356E
Pros:
Lightweight (compared with many other vacuums), and glides across any floor effortlessly.
powerful suction ability.
Completely safe for allergic person (British Allergy Foundation seal of approval).
Extra-large and easy-empty dustbin
Lifetime (washable) filters (including the HEPA, all of which you typically have to replace on other vacuums)
No need to replace/service a brush-roll belt.
Cons:
Super top-heavy
The foam filter gets dirty very quickly and needed to be cleaned after 2-3 weeks
The vacuum tube when in hand-held mode is a bit tight and short
No place to store the long hard tube on the vacuum
Compare of Shark NV356E with other upright vacuums
Updating
Rating of Shark NV356E 
Shark NV356E has nearly 15 thousand reviews on Amazon which is 10X more than a typical model. Although Shark NV356E has been introduced to the market for many years, it still gained a very high rating of 90 points on 100 points scale.
Easy to assemble:  96/10
Suction power:  90/100
Easy to clean after use: 92/100
Light weight:  96/100
Ergonomic value:  90/100
Designed for stair:  82/100
Specifications of Shark NV356E
Other models in the same series: NV355, NV355C, NV355CFS, NV355WM1, NV356E, NV356K, NV356Q, NV357, NV358, NV370, NV370_26, NV391, NV391C, UV541CCO, UV550
Dimensions: 14.96 x 11.4 x 45.5 inches
Weight: 13.7 pounds
Uses: Pet Hair, Carpet, Hard Surface, Bare Floors
Warranty: five-year limited warranty.
Color: White and Silver
Voltage: 120 Volts
Dust cup capacity: 2.2 quarts
Lift away: yes
Filtration: Anti-allergen complete seal technology plus a HEPA filter
Brush roll shutoff: yes
FAQs of Shark NV356E
When using the attachments, do you use the brush roll on or the bare floor setting?
Answer: I'm not sure it matters. I usually just leave it on the setting it's already on when I need the attachment. I honestly hadn't paid attention or thought about that.
Question: Does this model have the self cleaning brush roll?
Answer: No, but it's easier to take the plastic top off than the one I had previously. The brushes also remove easily, so you feel you're getting it super clean.
Question: Does this version come with an upholstery tool?
Answer: I did not expect it based on the description, but mine arrived with one.
Question: Have the "Hard floor hero attachment" compatible with this vacuum?
Answer: As far as I know it is only compatible with this Shark Navigator lift-away professional vacuum. I love this attachment!
Question: How can I talk to a representative on the phone.
Answer: use chat first they will help you If the need for a phone communication arises you will be connected
Question: Does this vacuum stink like a dog everytime you vacuum after use in a house with a big dog?
Answer: No, but you do proper maintenance as suggested by the manufacturer.
Question: Can the hepa filter be cleaned?
Answer: According to the manual, cleaning the HEPA filter is not recommended. However, it only needs to be replaced annually, and the filters are not expensive. All the other filters can be cleaned.
Question: Does this have a motorized small furniture attachment?
Answer: I am not sure what that is, so not sure. There is a furniture brush attachment called "Pet hair power brush".
Question: Does these vacuum have attachments
Answer: I did not purchase attachments, but I have an older model that came with them. I think this is the best vacuum, ever,. Lightweight, and the price is terrific. Also a workhorse. The older model is still working great, and there's a lot of carpet at my house.
Does this include the hvda300 attachment?
Question: Does the wand have a light on it? This has become an important feature for us!
Answer: No, mine does not have a light on the wand.
Question: I have asthma. In theory, this sealed vacuum should be right for me. But cleaning the compartments, added filters, triggers asthma. Is this different?
Answer: You should be ok. For safety and health sake, can you wear a mask doing the latter? I've not noticed any problems so far.
Question: Can you order the hard floor attachment separately?
Answer: i don't know. It would be nice.
Question: Does this have a rolling brush attachment to clean stairs?
Answer: Yes it does. The Top part of the vacuum comes off so you can easily carry it up the stairs as you clean.
Question: How to check the brush motor
Answer: Green light on the outside right side of the base unit. If it is out , pull the connection hose next to it. I found that dog hair will clog it, remove hair and it should work.
Question: Hi, which voltage is this item working with? i want this item for outside of us, 220v is used in our country
Answer: This runs on lower voltage. That would be way too much. Sorry
Question: What is the hardwood floor hero attachment
Answer: It is just the base portion of the vacuum.
Question: Two issues! how to lift the front of vacuum while in motion going from floor to area rug?? and – cord, keep running it over. help!!! and thx!
Answer: Unravel the cord to the length you need. Then grabbing the cord closest to you and holding it in the same hand you vacuum with, works for me.
What size filters fit this vacuum?
Answer: There is no real filter in it. You can actually remove the foam filter and hand wash it in the sink
Question: can it cut the hair off the brush?
Answer: My vacuum does not cut the hair off. However, I don't have any problem keeping the brush free of dog hair. This is the best vacuum I've ever purchased
Question: Is it normal to get hot around the motor area?
Answer: I haven't experienced any issue with mine yet. That may be a flaw in your unit, I would get it looked at.
Question: How to buy a replacement canister?
Answer: Go to the manufacturer website. If it's under warranty, good luck getting in touch with someone. I've been trying for weeks.
Question: what Shark vacuum has a wider cleaning head?
Answer: Check with manufacturers
Question: I am thinking of buying the nv356e and I'm reading it comes with a premium roller or standard roller.
Answer: It does come with it and it's amazing!!!
Question: Where is it made? Not buying Chinese
Answer: We would like to inform you that this vacuum is manufactured in China.
Question: Is the brush motorized or air powered?
Answer: We would like to inform you that this vacuum includes a dusting brush, 8″ crevice tool, and pet power brush. The pet power brush is air driven.
Question: What is the suction power in aw? i want to compare the specs with dyson models.
Answer: Very good suction power. Light weight and so easy to use.
Question: will this model stand alone or must it lie on the floor?
Answer: We would like to inform you that this vacuum stands on its own when not in use.
Troubleshooting of Shark NV356E
How and when do I adjust the suction of Shark NV356E?
The suction control collar at the base of the handle will helps you to adjust the suction level for different surfaces. You can rotate clockwise or counterclockwise to increase or reduce the suction, respectively.
What should I do if the brush roll of Shark NV356E stops spinning?
Use scissors to carefully cut away any hair wrapped around the brushroll. Check that the nozzle release button is locked in place, making the electrical connection complete.
You can see a detailed instruction of how to remove blockage out of Shark NV356E brush roller in the below image
Replacement parts of Shark Navigator Lift-Away Professional Upright Vacuum
Foam & Felt Filter Kit
Hard Floor Hero
Accessory Holder
Back Saver Wand
Bare-Floor Nozzle
Crevice Tool
Dust Cup
Dust-Away Microfiber Pad
Dust-Away Pads
Duster Pads
Dusting Brush
Dusting Kit
Extension Tube
Extension Wand
Filter Grill
Floor Nozzle Hose
Hard Surface Brush
HEPA Filter
Hi everyone, are you looking for something efficient and cool? Let's check, review, compare anything that helps our lives better.