Last update
Summary
Shark Rocket HV380 is a budget friendly stick vacuum designed for daily use. Shark Rocket is highly rated for its maneuverability because the unit is very lightweight, just only under 10 lbs. Because this series is Shark' best selling stick vacuum line, there are quite a lot of variations such as HV381, HV382, HV383, HV384Q, etc. These models use the same design and motor power, with differences in color and accessories.
Here are a few benefits of Shark HV380 Vacuum
Standard dust cup capacity (0.91 quarts) but very lightweight (under 10 lbs.)
Duoclean brush roller – Shark's best roller design
Can be used on several floor types and above floor surfaces with tools: Crevice Tool, Upholstery Tool, Dusting Brush, On-Board Accessory Storage Clip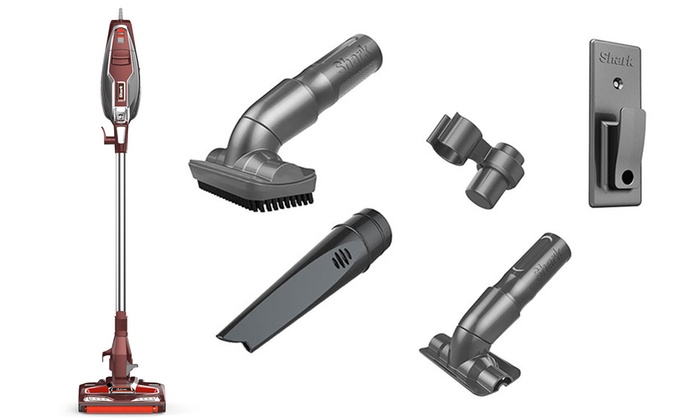 Specifications Shark HV380 Vacuum
Similar Model: HV382, HV380, HV380C, HV380W, HV381, HV381C, HV382BRN, HV383, HV384Q, UV380
Product weight (lbs.): 9.9
Dust cup capacity (qts.): 0.91
Cleaning path width (in.): 8.5
Wattage: 505
Amps: 4.2
Filter type: Washable foam & felt
Cord length (ft.): 30
Hose length (ft.): N/A
Product dimensions (in.): 10.2″ L X 9.8″ W X 46.4″ H
LED lights: On floor nozzle & hand vacuum
Compare Shark HV380 with HV380W, HV381, HV382
As mentioned above, these models are similar in the motor power and machine design, but they use difference accessories:
| | | | | |
| --- | --- | --- | --- | --- |
| Model | HV380 | HV380W | HV381 | HV382 |
| Truepet motorised brush | | | | yes |
| Under appliance wand | | yes | yes | yes |
| Upholstery tool | yes | yes | | yes |
| Dusting brush | yes | yes | | yes |
| Duster crevice tool | | | yes | yes |
| Accessory bag | | | yes | yes |
| Onboard tool clip | yes | yes | yes | yes |
| Wall mounting | yes | yes | yes | yes |
| Pet multi-tool | | | yes | |
| 12'' crevice tool | yes | yes | | |
FAQs of Shark Rocket HV380
Does the vacuum have a filter? What kind of filter does it use?
Answer:No
Question:Does the vacuum have a filter?
Answer:It has two built-in filters that you wash out once a month. No paper filters to change. It is easy to empty the collected dust into the trash can.
Question:Planning to ship overseas. What are the dimensions of the shipping box?
Answer:You will need to contact company -I believe there are a couple of sizes
Question:Does beater bars disengage for hardwood floors?
Answer:We have laminate floors and long hair gets wrapped around the beat bars – so I would say "no". We've had the vacuum cleaner for about a year and I love it.
Question:Is it self propelled?
Answer:It is not self- propelled. You must propel it yourself.
Question:What are the wheels made of?
Answer:They are plastic wheels with a rubber strip down the middle.
Question:How does it work on deep shag
Answer:I can't really answer that question because I don't have any shag carpeting, only rugs. But I can tell you that it did really well with my rugs.
Question:how long is cord?
Answer:Long enough to do 3 rooms before moving to another plug.
Question:Need front brush roll
Answer:If you have flooring with no carpet then the answer is yes. It leaves a nice shine on our floors.
Question:Is the battery removable?
Answer:There is no battery. Outlet powered only.
Does this include the hardfloor attachment?
Answer:Yes it does.
Question:Does it need bags or filters?
Answer:It is bagless but has two filters. The compartment allowing access to the filters is easily accessible and the filters just need to be washed off.
Question:What is the true warranty on refurbished vacuum?
Answer:I used the amazon purchase protection plan for two years.
Question:will the brushes scratch up a waxed concrete interior floor?
Answer:The vacuum has a three position switch. Off, vac only, and vac with brush function. I don't believe the brushes will scratch concrete, but you can always operate on vac function without running the brushes.
Question:We have rugs and our current vacuum is too powerful and sucks up the rugs. Is the power level adjustable (or, how does it work on rugs)?
Answer:This will suck up loose unsecured rugs as well.
Question:How tall is it? Asking for storage purposes.
Answer:It is easy to store via taking the foot or top off so no problems anywhere for storage.
Typical length of a normal vacuum
Question:If I want to return it because I don't like it, are there free returns or do I pay shipping?
Answer:I don't know. This is my second shark and I am very satisfied.
Question:What size is the head
Answer:10.25/7 inches.
tags:
shark hv380 review,
shark hv380 filters,
shark hv382,
shark hv380 parts,
shark hv380 manual,
shark hv381,
shark rocket,
shark hv380 vs hv382,
shark hv380 vs uv380,
shark hv380 vs hv390,
Hi everyone, are you looking for something efficient and cool? Let's check, review, compare anything that helps our lives better.