Last update
Summary
Shark UltraCyclone Pet Pro CH951 is a handheld vacuum recommended for cleaning small jobs, pet hairs, dog hairs, etc. The best part of this handheld vacuum is the powerful suction and the new feature of the brush roller: self cleaning brush roller so you do not have to remove wrapped hair by hands. The Shark CH951 remains all of the benefits from previous model CH901 such as:
Strong air streams with cyclonic motor 
Big dustbin to keep more dirt and debris while the total weight is just 2.8 lbs.
The filter is long-lasting, washable and the dirt-ejector feature will keep your hand clean when emptying the dustbin.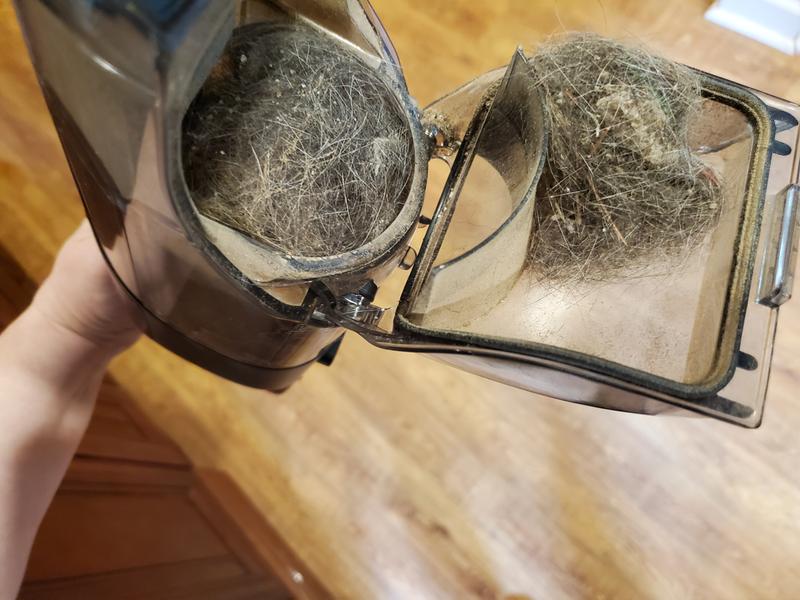 Accessories of Shark CH951
13.3V Charger
Charging Dock
Crevice Tool
Dust Cup
Dust Cup Filter
Hard-Floor Cleaning Attachment
Scrubbing Brush
Self-Cleaning Motorized Pet Brush
Specifications
Product weight (lbs.): 2.8
Dust cup capacity (qts.): 0.45
Cleaning path width (in.): 2.55
Wattage: 80
Amps: 8
Filter type: Fabric filter
Product dimensions (in.): 20.8″ L X 3.8″ W X 4.3″ H
Tools: Scrubbing Brush, Crevice Tool, Detachable Self-Cleaning Pet Power Brush
Compare Shark CH951 handheld vacuum with other Shark handheld models
| | | | | | |
| --- | --- | --- | --- | --- | --- |
| | Shark UltraCyclone Pet Pro+ cordless handheld vacuum (CH951) | Shark UltraCyclone Pro cordless handheld vacuum (CH901) | Shark Rocket Hand Vac (HV292) | Shark Rocket Hand Vac (WV201) | Shark Cordless Pet Perfect II Hand Vac (SV780) |
| Self-cleaning brushroll | yes | no | no | no | no |
| Product weight (lbs.) | 2.8 | 2.2 | 3.7 | 1.4 | 4.4 |
| Wattage | 80 | 65 | 400 | 115 | 122 |
| Amps | 8 | 9 | 3.4 | 10.6 | 7.8 |
| Cord length (ft.) | N/A | N/A | 15 | N/A | N/A |
| Dust cup capacity (quarts) | 0.45 | 0.45 | 0.31 | 0.08 | 0.56 |
| Filter type | Fabric Filter | Fabric Filter | Washable Foam Filter | Fabric Filter | Foam and Felt |
Rating of Shark CH951: 90/100 points
Easy to use: 100/100
Light weight: 96/100
Easy to clean: 86/100
Suction power: 82/100
Battery life: 40/100
FAQs of Shark CH951
Do you leave it plugged in when not in use?
Answer: This vacuum runs off a lithium battery. One only needs to plug in when it needs charging.
Question: Can I buy a hose attachment?
Answer: They give you pieces but you have to contact manufacturer regarding this question
Question: How long is the warranty
Answer: If you register with Shark, it is 2 years.
Question: Does this vacuum come with a rechargeable stand or do you plug it in to recharge it? How does it recharge?
Answer: no stand or holder. You do plug it in to recharge.
Question: Where can I get another charger?
Answer: Shark customer service. I bought an extra and a mount for mine from shark.
Question: Do you have to hold down the power button while using it?
Answer: No.
Question: Does vacuum come with a charger?
Answer: Yes it does.
Question: I used this once, went to plug it in to recharge and now won't turn back on- has this happened to anyone else?
Answer: Be sure to unplug it after charging BEFORE you turn it it. Same thing happened to me. I kept trying to turn it on while it was still plugged in after charging.
Question: Power voltage
Answer: I am not sure what you are asking. But I see I can only use it on 110, and I do not see a switch to 220. But I love this sweeper. It is strong enough, has enough accessories, and its great to be able to empty the reservoir with one button.
Question: How long does the charge last? Can electricity be used when the charge runs out?
Answer: I think there is no hard wire option. I only use it for 2 minutes at a time. I do not have to recharge often. Like only every several days.
Suction power in pa?
Answer: Suction power is very adequate for cleaning up debris from my pet birds, i.e. feathers and seeds. If it suddenly becomes weak, you probably need to clean out the reservoir or the pathway to the reservoir.
Question: How many Volts is this vacuum?
Answer: It has a 10.8 volt/100 watt motor per the label on the bottom of the vacuum. Works very well. Solid. Battery could last a bit longer.
Question: What is the air watts or airflow (CFM) of this vacuum
Answer: 100 watts
Question: How many Volts is this vacuum?
Answer: 10.8
Question: Does this have an electric motorized brush or does the brush spin from the air flowing through it?
Answer: Electric motorized. If I don't engage the metal prongs it won't work. There are two metal prongs that must be engaged before the power brush will work.
Question: Mine didn't come with a charger. Does anyone know what kind of charger I need?
Answer: Contact the manufacturer with the model number would be my best advice.
Question: Can you buy extra filters?
Answer: You can purchase them through the Shark website. I've owned my vacuum for several months and have not had to clean my filter yet. I've emptied the trash bin multiple times.
Question: Does this vacuum up wet messes? I keep googling and this comes up as a result but I don't see it listed.
Answer: I have purchased this vac and it has good suction, but I've never tried sucking up a wet mess. This is a mini vacation that I am totally satisfied with.
Question: Where is this made?
Answer: We would like to inform you that this vacuum is manufactured in China.
shark ch951 review,
shark wandvac,
shark ch901,
shark ultracyclone ch950,
shark ultracyclone vs wandvac,
shark ch951 vs ch901
Hi everyone, are you looking for something efficient and cool? Let's check, review, compare anything that helps our lives better.